IT: Buon giorno!
Avete già programmato le vostre vacanze? Per quelli che ancora non hanno un idea di dove andare e soprattutto che hanno voglia di provare cose nuove, ho trovato alberghi in giro per il mondo che offrono esperienze emozionanti. In quale di questi posti vi piacerebbe andare?
EN: Hello!
Have you already planned your holidays? For those who do not yet have an idea of where to go
and above all who want to try new things, I found the hotels around the world that offer exciting experiences. In which of these places you like to go?
SI: Dober dan!
Ze veste kam greste na pocitnice? Za tiste, ki se nimajo nobene ideje kam iti in se posebaj za tiste, ki zelijo poskusiti nekaj novega, sem nasla nekatere hotele po celem svetu, ki ponujajo zanimljive izkusnje. Kam bi si zeleli iti?
BIH/HR/SR: Dobar dan!
Gde cete na godisnji? Za one, koji jos neznaju gde ce ici, a posebno za one koji zele nesto novo probati, sam nasla ove hotele, koji nude uzbudljiva iskustva. Gde bi si zeleli ici?
1. Manta Resort


IT: Sull'isola di Pemba , in Tanzania, 50 km da Zanzibar, troverete una suite galleggiante. Da novembre 2013 potete dormire in questa casa galleggiante che si trova a 250 m dalla costa. La suite è completamente autonoma, ed è divisa in due parti, la subacquea e quella sopra il livello dell'acqua. Nella parte subacquea c'è la camera da letto, che è dotata di un comodo letto matrimoniale e fornisce la piattaforma perfetta per guardare la vita che passa così vicino al fondale. Il ponte in legno sopra è dotato di servizi igienici e una zona relax. Gli ospiti possono dormire sott'acqua o sotto le stelle. Una notte costa 1250 $ a persona.
EN: On the island of Pemba in Tanzania, 50 km from Zanzibar, you will find a floating suite. From November 2013 you can sleep in this house boat which is located 250 m from the coast. The underwater suite is completely autonomous, and is divided into two parts, the underwater and above water level. In the underwater part is the bedroom, which is equipped with a comfortable double bed, provides the perfect platform to look at life at the seabed. The wooden bridge above is equipped with a toilet and a relaxation area. Guests can sleep underwater or under the stars. One night costs $ 1,250 per person.
SI: Na otoku Pemba v Tanzaniji, 50 km od Zanzibarja, boste nasli plavajoco suito. Od november 2013 lahko spite v tej hisi-ladja, ki se nahaja 250 m od obale. Podvodna suita je popolnoma samostojna, je razdeljen na dva dela, podvodni in nad vodno gladino. V podvodnem delu je nocni del, ki je opremljen z udobno zakonsko posteljo, zagotavlja idealno platformo za ogled zivljenja v morju. Zgornji leseni del je opremljena z WC in prostorjem za sprostitev. Gostje lahko spijo pod vodo ali pod zvezdami. Ena noc stane 1250 $ na osebo.
BIH/HR/SR: Na otoku Pemba u Tanzaniji, 50 km od Zanzibara, mozete pronaci suite u moru. Od novembra 2013 mozete spavati u ovoj kuci-brodu, koji se nalazi 250 m od obale. Podvodni apartman je u potpunosti odvojen od gornjeg dela, je podijeljen u dva dijela, pod vodom i iznad povrsine vode. U podvodnom dijelu je nocni deo, koji je opremljen sa udobnim bracnim krevetom, pruzajuci idealnu platformu za gledanje morskog zivota. Gornji drveni dio je opremljen sa wc-om i relax prostorom. Gosti mogu spavati pod vodom ili pod zvijezdama. Jedna noc kosta 1250 $ po osobi.
2. Maharaja Express


IT: In India, partenza da Mumbai, Kolkata o Delhi in un treno di lusso. Da ottobre 2012 ci saranno cinque Maharaja Luxury Trains, operanti su dodici diversi circuiti del tour in tutto il paese. Operativo da ottobre ad aprile, i viaggi in treno sono stati spesso paragonati a quelli dell' Orient Express dell'Europa. Offre servizi di classe mondiale ,come ,ad esempio ,cabine idrauliche con pannelli a controllo individuale della temperatura, bagno privato annesso, Internet Wi-Fi, lettori DVD e TV al plasma. Le cabine sono decorate con ricchi arazzi, tappezzeria, moquette da parete ,pietre semi-preziose e oggetti d'antiquariato. Sette notti in una cabina deluxe costano 13000 $ per due persone.
EN: In India, from Mumbai, Kolkata or Delhi in a luxury train. From October 2012 there will be five Maharaja Luxury Trains operating on twelve different circuits tour across the country. Operational from October to April, the train journeys were often compared to those of the 'Orient Express of Europe. Offers world-level luxury cabins are equipped with a hydraulic plate which individually controls the temperature in the cabin, and each cabin has its own bathroom, Wi-Fi, DVD players and plasma TVs. The cabins are decorated with rich tapestries, upholstery, carpet, wall mounted, semi-precious stones and antiques. Seven nights in a deluxe cabin cost $ 13,000 for two people.
SI: v Indiji, od Mumbai, Kolkata in New Delhija v luksuznih vlakih. Od oktobra 2012 so operativni pet Maharaja Luksuzni Vlaki, ki vozijo na dvanajstih razlicnih destinacijah po vsej drzavi. Operativni od oktobra do aprila, ti vlaki se pogosto primerjajo s tistimi v "Orient Express Evropa. Ponuja svetovno raven luksuza, kabine so opremljene z hidravlicno plosco ki individualno kontrolira temperaturo v kabini, vsaka kabina ima svojo kopalnico, Wi-Fi, DVD predvajalniki in plazma televizorje. Kabine so opremljene z bogatimi tapiserijami, preprogami, z poldragimi kamni in dragocenimi starinami. Sedem nocitev v deluxe kabini stane 13.000 $ za dve osebi.
BIH/HR/SR: U Indiji, od Mumbai, Kolkate i New Delhija u luksuznom vozu. Od oktobra 2012, radi pet Maharaja Luksuzni vozova, i rade na dvanaest razlicitih destinacijama sirom zemlje. Operativni od oktobra do aprila ovi vozovi se cesto usporedjuju s onima u "Orient Express Europe. Ponude svijetu nivou luksuzne kabine su opremljene sa hidraulicnom plocom koja pojedinacno kontrolira temperaturu u kabini, i svaka kabina ima vlastitu kupaonicu, Wi-Fi, DVD playeri i Plazma televizori. Kabine su opremljene sa bogatim tapiserijama, tepisima, sa polu-dragim kamenjima i dragocenim antikvitetama. Sedam nocenja u deluxe kabini kosta 13.000 $ za dvije osobe.
3. Boeing 727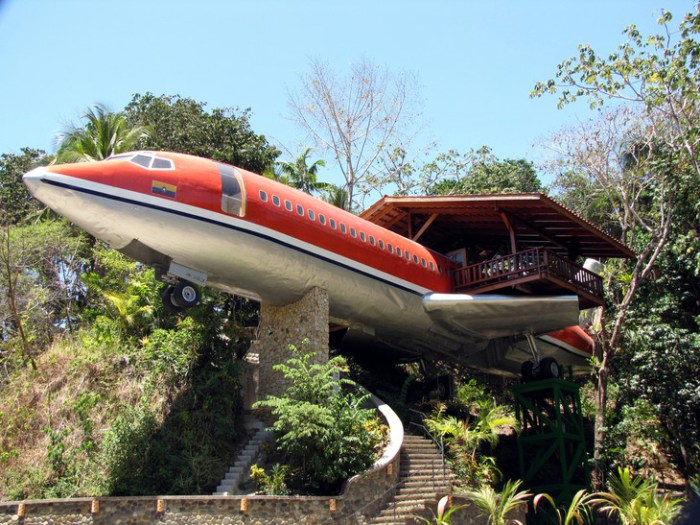 IT: Vicino al Parco Nazionale Manuel Antonio in Costa Rica c'è la sede del primo aereo passeggeri che è stato convertito in due camere da letto, suite con due bagni con angolo cottura, TV a schermo piatto, una sala da pranzo, una terrazza con vista sul mare. È possibile visitare la giungla ed esplorare la splendida cornice del parco nazionale. Questo "albergo" è un esempio di ciò che la creatività e il riciclaggio possono raggiungere. Come parte del resort, ci sono piscine e due ristoranti che servono cucina tradizionale di mare. Costa 200 $ a notte a persona.
EN: Near the Manuel Antonio National Park in Costa Rica is home to the first passenger plane that was converted into a two bedroom, two bathroom suites with a kitchenette, flat-screen TV, a dining room, a terrace with a view the sea. You can visit the jungle and explore the beautiful surroundings of the national park. This "hotel" is an example of what they creativity and recycling can achieve. As part of the resort, there are swimming pools and two restaurants serving traditional cuisine of the sea. Coast $ 200 per night per person.
SI: V blizini Manuel Antonio National Park v Kostariki je dom prvega potniskega letala, ki je bil preurejen v dve spalnici, dve kopalnici z kuhinjo, televizijo, jedilnico, teraso s pogledom na morje. Obiscete lahko dzunglo in raziskovanje cudovite okolice v narodnem parku. Ta "hotel" je primer, kaj lahko dosezemo iz ustvarjalnosti in recikliranja. Je del naselja, kjer so bazeni in dve restavraciji, ki sluzijo tradicionalno morsko kuhinjo. Cena je $ 200 za eno noc na osebo.
BIH/HR/SR: U blizini Manuel Antonio nacionalni park u Costa Riki je dom prvog aviona, koja je pretvoren u dvije spavace sobe, dvije kupaonice apartmana s kuhinjom, TV, dnevnim boravkom, terasom s pogledom na more. Mozete posjetiti dzungle i nacionalni park. Ovaj "hotela" je primjer onoga sto se moze postici sa kreativnostju i recikliranjem. Dio je naselja gde su dva bazena i restoran koji posluzuje tradicionalnu morsku kuhinju. Cijena je 200 $ po noci po osobi.
4. Resort Kagga Kamma


IT: Questo resort si trova sulle Coderberger Mountains a 250 km da Cape Town. È una scelta ideale per gli ospiti che sono alla ricerca di un rifugio remoto. Offre sistemazioni rustiche nel cuore della natura, che è circondata da coltivazioni nei dintorni rocciosi. I visitatori godono di relax presso la piscina all'aperto; emozionanti le escursioni in quad, trekking e mountain bike nella riserva che ospita piccola selvaggina. Se volete staccarvi dal mondo questo è un luogo ideale. Costa intorno 200 $ a notte a persona.
EN: This resort is located on Coderberger Mountains 250 km from Cape Town. It is an ideal choice for guests who are looking for a remote refuge. It offers rustic accommodation in the heart of nature, which is surrounded by cultivations in the rocky surroundings. Visitors enjoy relaxing by the outdoor pool; exciting quad biking, hiking and mountain biking in the reserve that is home to small wild game. If you want break away from the world this is a great place. It costs around $ 200 per night per person.
SI: Ta kraj se nahaja na Coderberger Mountains 250 km od Cape Town. To je idealna izbira za goste, ki iscejo zatocisce na samem. Ponuja rusticno nastanitev v osrcju narave, ki je obdan z obdelovanju v skalnatih okolici. Obiskovalci tega mesta lahko uzivajo v zunanjem bazenu; lahko pa si privoscijo razburljivo quad kolesarjenje, pohodnistvo in gorsko kolesarjenje v rezervi, ki je dom divjacina. Ce se zelite odcepiti od sveta, je to odlicen kraj. Stane okoli 200 dolarjev na noc na osebo.
BIH/HR/SR: Ovo mjesto se nalazi u Coderberger planinama 250 km od Cape Town. To je idealan izbor za goste koji traze utociste u samoci. Rusticni smjestaj u srcu prirode. Posjetitelji ove stranice mogu uzivati ​​u vanjskom bazenu; ali se mozete povesti sa quad biciklima, planinarenje i brdski biciklizam u rezervi, koji je dom za divljac. Ako zelite da se odvoji od svijeta, ovo je sjajno mjesto. Kosta oko $ 200 po noci po osobi.
5. Attrap'Reves


IT: A 12 km da Marsiglia potete dormire sotto le stelle con tutti i comfort di un albergo. Attrap'Rêves è il primo hotel mobile che prende ispirazione dal campeggio e che offre ai turisti la possibilità di trascorrere un soggiorno a contatto con la natura all'interno di speciali tende di forma sferica e dalla struttura semitrasparente. Le tende hanno un diametro di circa 4 metri ed un'altezza di 3 metri, sono leggere e facilmente montabili e smontabili, tanto da non lasciare alcuna traccia negli spazi naturali in cui sono state collocate. Una notte costa da 110 € a notte a persona.
EN: Located 12 km from Marseille you can sleep under the stars with all the comforts of a hotel. Attrap'Rêves Mobile is the first hotel which takes inspiration from the campground and offers tourists the opportunity to spend a holiday in contact with nature in special tents spherical in shape and structure from the semi-transparent. The tents have a diameter of about 4 meters and a height of 3 meters, are light and easily assembled and disassembled, so as to leave no trace in natural spaces in which they were placed. A night costs € 110 per night per person.
SI: 12 km iz Marseilla lahko prespite pod zvezdami z vsem udobjem hotela. Attrap'Rêves Mobile je prvi hotel, ki daje navdih iz kampa in turistom ponuja moznost, da prezivijo pocitnice v stiku z naravo, v posebnih sotorih okrogle oblike in transparentne strukture. Sotori imajo premer priblizno 4 metrov in visine 3 metrov, so svetli in preprosto jih je sestaviti in razstaviti, tako da ne pusca sledi v naravnih okoljih, v katerem so bili dani. Nocitev stane 110 € na noc na osebo.
BIH/HR/SR: 12 km od Marseille mozete spavati pod zvijezdama sa svim blagodatima hotela. Attrap'Rêves Mobile je prvi hotel koji uzima svoju inspiraciju iz logora i nudi turistima priliku da provedu odmor u dodiru s prirodom, u posebnim satorima okruglog oblika i strukture polu-transparentni. Satori imaju promjer od oko 4 metra i visine od 3 metra, su svijetle i lako se montiraju i rastavljaju, tako da ne ostavlja trag u prirodnim sredinama u kojima su dani. Nocenje kosta 110 € po osobi.
By: Dragana Radosevic